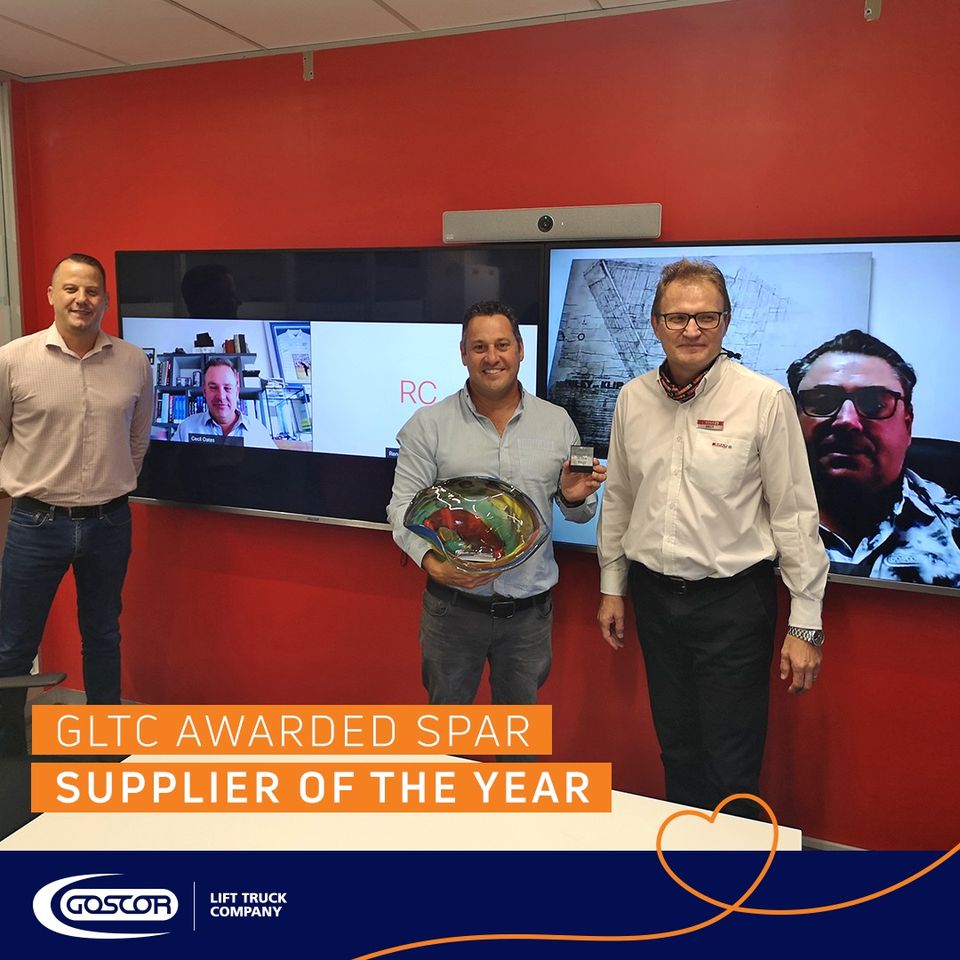 Goscor Lift Truck Company (GLTC) has been awarded the coveted SPAR Group's Supplier of the Year accolade for 2021.
The award coincides with the 20th anniversary of GLTC's partnership with SPAR group. The leading materials handling equipment solutions provider currently has over 1,000 units deployed across SPAR's distribution centres in South Africa, including forklifts, reach trucks, order pickers and power pallet trucks.
GLTC is the sole distributor of leading materials handling brands including Crown, Doosan, Bendi, Sunlight lead acid batteries and DEC tow tractors in southern Africa, allowing the company to offer a full basket of materials handling equipment and warehousing solutions to the market.
Michael Keats, Director at GLTC, says a partnership mentality has been central to the longevity of the relationship between the two companies. Apart from reliable and efficient equipment, GLTC focuses on offering an unparalleled service regime to the retail group, ensuring high equipment availability and uptime. This includes on-site support and technical staff in KwaZulu-Natal and Nelspruit, with service support teams in all the other regions.
This is the second time that GLTC has taken home SPAR's Supplier of the Year award, having previously clinched it in 2016. "We are very proud to be in partnership with SPAR and to have received this award for the second time. The service quality matrix that SPAR uses to measure its Supplier of the Year, and the fact that we are being pegged against many other key service providers to its distribution centres, is a great gauge for best practice in our industry. To come out on top is a great accomplishment. We plan to sustain these service levels and develop upon them. The open communication between us and the customer allows us to critically evaluate our service level offering and assists us to keep improving as we grow together," says Keats.
"We are proud to have GLTC as one of our key suppliers and look forward to an ongoing partnership and future technological advances where we can push the efficiency boundaries within our operations," adds Ruark du Preez, SPAR Group Fleet Optimisation Manager.
"GLTC has been an integral partner in the success of SPAR's operational efficiencies, and we are honoured to have them as a supplier. We look forward to the successful continuation of this long-standing business relationship into the future," concludes Solly Engelbrecht, SPAR Group Logistics Executive. •