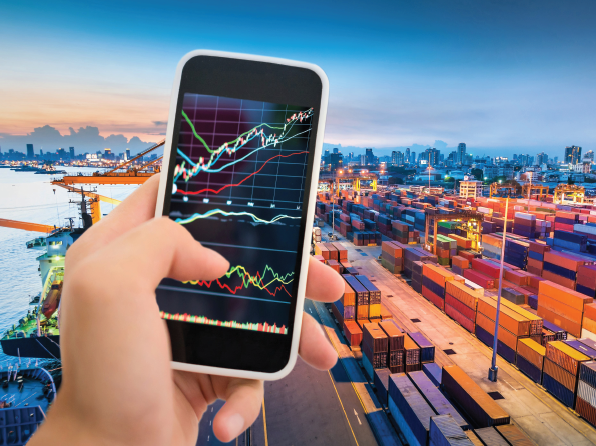 Managing a supply chain can be a complex and challenging task for even the most skilled managers. Traditionally, firms use to rely heavily on intensive manual processes to manage their supply chain operations. However, the fallacy of manually handling all aspects within a supply chain has been eradicated with the advancement of information technology (IT) innovations.
A famous quote by Bill Gates pronounces that, "We're changing the world with technology". Technological innovations have come a long way since the 1970s when mainstream computing devices were first introduced. Similarly, mobile computing devices came into use in supply chain management during the late 1990s and has continued to permeate into all aspects of supply chain management. Mobile computing is a generic term used to describe devices that facilitate access to data and information without being connected to a fixed physical link such as a mobile phone or laptop.
In the most basic sense, a supply chain consists of a supplier, manufacturer, warehouse, mode of transport, retailer and final customer sections. Among these sections, there are three main flows; product flows, information flows and financial flows. Satisfying customer demand largely depends on efficient and quick information exchange between these sections.
Granted, mobile devices such as barcode scanners have been used since the early 2000s, they were primarily used to provide a singular function, i.e., to receive and transmit data. Considering the global disruption of the COVID-19 pandemic coupled with the growing usage of mobile internet-connected devices, supply chains have become more decentralised, more complex to manage and measure, and more vulnerable to risks disruptions.
In line with the above, mobile computing provides an integrative one-stop-shop platform for many applications or computer software to complete multiple tasks. One of the most significant advantages of mobile computing is that it enables a 'connected supply chain'. By leveraging structured and unstructured data generated across the supply chain, mobile computing improves the connectivity of the supply chain network. This helps firms to connect with their suppliers, vendors, and customers easily.
The cognitive intelligence and predictive analytics offered by mobile computing help firms gain the right information for decision-making at the right time. Additionally, mobile computing operates on a flexible, usage-based model. With mobile computing, businesses can operate their supply chain successfully in a volatile market. It enables faster planning and execution resulting in reduced time to market.
Firms can gain better access to resources and information, enhancing flexibility and responsiveness to market conditions. To remain competitive, firms must reimagine their business processes, and particularly their supply chains. Firms need to consider shifting from the traditional and linear supply chain models to more innovative, digital supply chain networks.
Even though mobile computing facilitates for the implementation of efficient and effective supply chain operations it is not without its drawbacks. The effectiveness of mobile computing is dependent on network connection and device battery life. If either of these two factors are not adequately addressed then mobile computing is not possible. Another key concern is that of security risks due to connections that may be susceptible to hacking. As a result, the modern-day supply chain professional needs to consider these concerns before adopting mobile computing.
Amid the breadth of technologies available today, mobile computing is emerging as a real game-changer for businesses to innovative supply chains, rapidly and efficiently. Mobile computing provides both a method of communication and a source of information to employees and business owners facilitating for a host business tactics, competitive initiatives and dealing with uncertainty. This makes mobile computing an essential tool in the repertoire of a supply chain professional of tomorrow.
Written by
Arno Meyer
Aveshin Reddy