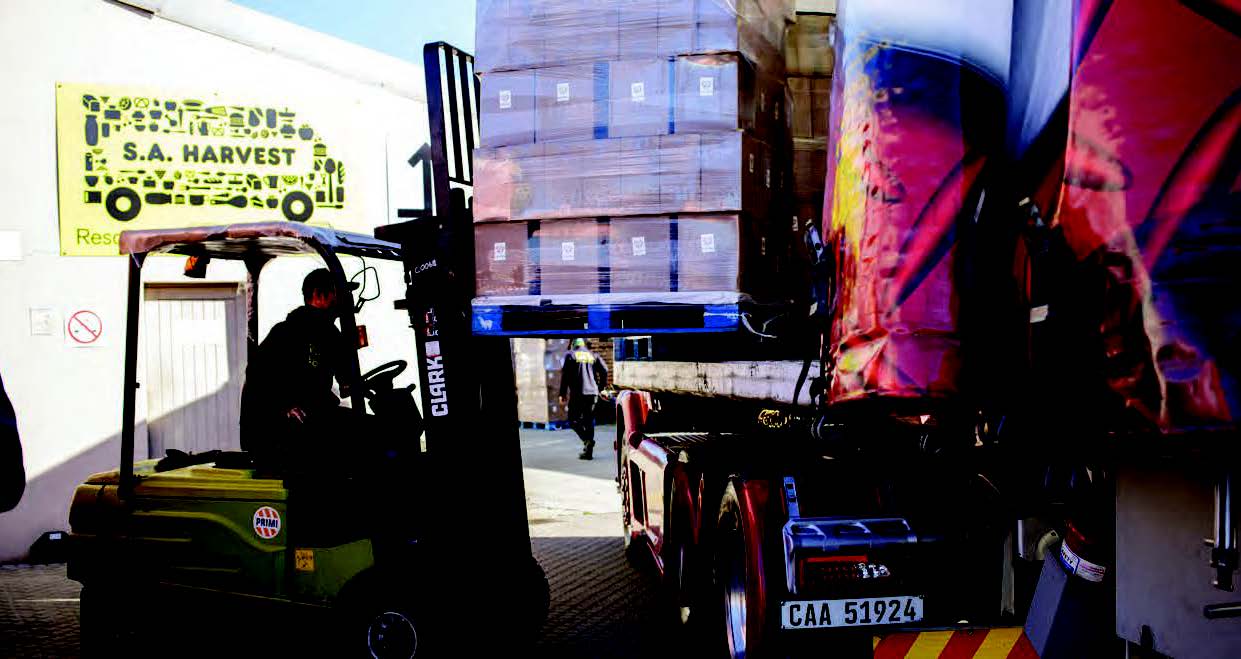 SA Harvest is taking a revolutionary approach to ending hunger in South Africa by addressing flaws in the current food ecosystem and creating a food rescue initiative.
Leading logistics companies have responded with speed and generosity to help food rescue organisation SA Harvest address the postriots devastation and hunger in KwaZulu-Natal and Gauteng.
These include Waterford Carriers from Johannesburg and Time Link Cargo from Cape Town, along with additional logistical support from Bex Carriers and Bulldog Hauliers. "Their contribution is incalculable and made the provision of over 90 tons of food, toiletries, baby food, nappies and other essentials possible within a matter of days," says SA Harvest CEO Alan Browde.
Dave Featherstone, Waterford Carriers' owner, says that it's been a privilege to be able to help. "Our country faces a hunger crisis that the riots exacerbated and for us to be part of the solution was just amazing for our company and all who are a part of it," he says.
SA Harvest's response to the rioting and looting began immediately as the severity of the damage and the ensuing shortages became evident. Since launching in September 2019, SA Harvest has built up a strong infrastructure, logistical and technology capabilities, and was therefore able to respond immediately and efficiently. Since its inception in October 2019, this national food rescue organisation has delivered the equivalent of 7.5 million nutritious meals to food-vulnerable communities throughout South Africa.
Ending hunger in SA
SA Harvest was established in 2019 when around 14 million people were going hungry every day. Since then, the need has increased due to the extended lockdown and consequent increase in unemployment to unprecedented levels.
The organisation is taking a revolutionary approach to ending hunger by addressing its systemic root causes, leveraging innovative technology and simultaneously tackling the immediate need through rescuing nutritious food that would have gone to waste and delivering it where it's needed most.
In South Africa, 10 million tons of good food go to waste every year, which is one third of the 31 million tons produced annually in the country. Around 90 percent of organic waste, including food, ends up in landfills, leading to the production of methane gas, which is a significant contributor to climate change and global warming.
Browde explains that SA Harvest is on a mission to redirect large scale food waste throughout the entire food chain to where it is needed the most by collaboratively and technologically addressing the current flaws in the food ecosystem.
"Our current emphasis on ending hunger in South Africa is food rescue. We work with food donors (manufacturers, farmers, retailers) to rescue this food and redirect it to beneficiaries who convert it into nutritious meals," says Browde. Most of this wastage and loss occurs early in the food supply chain, where 50 percent is lost during the post-harvest phase, 25 percent during processing and packaging, 20 percent during distribution and retail, and 5 percent at consumer level, according to a 2017 article in Farmer's Weekly.
"With the right technology, logistics and enablement platforms, we can access significantly more nutrient rich food to deliver it where it's needed the most."
Logistical needs
SA Harvest has a fleet of refrigerated and other vehicles operating from warehouses in Briardene in Durban, Epping in Cape Town and Sandton in Johannesburg. A proprietary technology platform is being built to enhance the organisation's logistics capability, which will help enhance the efficiency of the entire food rescue supply chain. "This platform will allow for knowledge and data sharing with NGOs and other key stakeholders and bring about the collaboration needed to build solutions. It empowers how we tackle the problem of food waste in South Africa and eventually scale sufficiently for our industry to be more effective."
Browde says that solving hunger at the scale it exists in South Africa ultimately boils down to logistics solutions. "No one company can acquire enough vehicles to accomplish this massive task. We have a huge need for logistics partners who can become part of the solution. Through our technology platform and the mapping of food donors and those in need, empty and under-utilised return loads could make all the difference and we implore logistics companies to help us end hunger in South Africa".
SA Harvest is able to issue a Section 18A certificate to all donors of tangible, billable products and services. This includes logistics, with the value being based on the value of the load and the distance in kilometres. Section 18A certificates allow organisations to deduct up to 10 percent of their taxable income. "Giving makes good business sense. Donating allows you to communicate your CSI initiatives and, through the Section 18A, saves money on your bottom line."
He concludes, "The response from logistics companies to the call for assistance with our KZN relief efforts was overwhelming and highlights the enormous role they have to play in the world of food rescue and in developing systemic solutions to hunger. It is inspiring how South Africans come together to assist one another when facing crises – it's one of the most uplifting experiences of living in this country."
Logistics companies interested in partnering with SA Harvest can contact Margolite Williams on 079 495 4433 or email her at margolite@saharvest.org